DEPARTMENTS /
Meat & Seafood
At Choices Market, we believe that a customer's concerns over quality and freshness is a given. We wouldn't dream of supplying anything other than the finest, freshest cuts of meat, poultry and seafood. Beyond that, we know our customers demand strong ethics when it comes to sourcing our meats and seafood. Because of this, we personally visit every farm and abattoir we partner with to ensure the animals are treated humanely and with respect. Choices also makes an effort to always source BC first. By committing to local farmers, we're helping our environment and stimulating the BC economy.
As sustainability is one of our key focuses, we are also a proud supporter and partner of the Vancouver Aquarium's Ocean Wise sustainable fishery program. If we want to be able to share the bounty of the sea for years to come, it's important to source our seafood responsibly.
Choices is also committed to providing you with a variety of unique items you won't find anywhere else. We have plenty of different cuts and delicious value-added options for you to take home. Are you stuck on how to prepare something? With our knowledgeable, experienced staff of butchers and meat experts, you'll never have to go long without your questions being answered.
Farmcrest Foods
Farmcrest Foods is a third generation poultry farm hailing from Salmon Arm in the BC interior. Farmcrest shares a holistic vision of farming, seeing everything as interconnected. Farmcrest believes in treating both animals and the local community with respect, which helps to make a superior product.
Thomas Reid Farms
From day one, Thomas Reid Farms birds see the light of organics. With windows in every barn and the freedom to act naturally, their birds can enjoy life to the fullest. In 1994 Thomas Reid Farms became the first ever certified organic poultry producer in BC, and thanks to that heritage we are proud to carry them in our stores.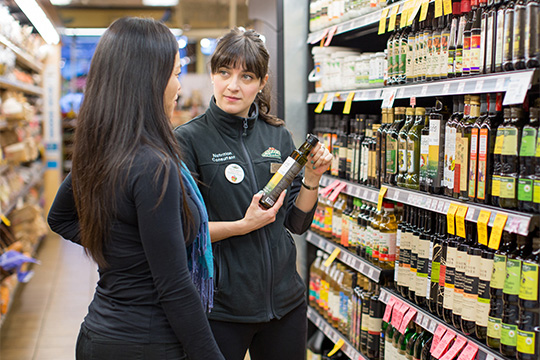 A Personal In-Store Nutrition Tour
Hungry for knowledge? Sign up for a fun and informative Store Nutrition Tour at your local Choices location. Hosted by a member of the Choices Nutrition Team, you will learn how to choose healthy and delicious foods no matter what your unique dietary needs are.