Search results
Eagle Brand - Regular Sweetened Condensed Milk, 300 Millilitre, $4.99
A concentrated blend of natural ingredients evaporated whole milk and cane sugar, condensed by a special vacuum cooking process. Certified kosher and does not contain gluten or added preservatives.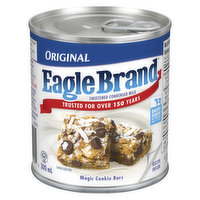 Eagle Brand - Regular Sweetened Condensed Milk, 300 Millilitre
Open product description
$4.99
was $5.99
$1.66/100ml
Can't find what you're looking for?