ABOUT US /
Our Company
Choices Market is a local, BC-owned retailer of natural, organic and specialty foods. Initially opened in 1990, Choices is proud to be a local grassroots grocer dedicated to helping people discover the best ways to nourish a healthy body and mind
Our Story
Since opening our first store in Vancouver's Kitsilano neighbourhood on December 3rd, 1990, Choices has remained committed to natural and organic food retailing. From the beginning, we began drawing a loyal clientele who loved our commitment to green retailing.
While establishing a presence as a natural, organic grocer, Choices also gained recognition as an advocate of supporting the great number of BC dedicated food producers. Over the years, the lasting relationships that Choices has built with local food producers are more than simply buy-and-sell transactions; they run much deeper. We set aside time to get to know the people who grow and produce the local foods that go home with Choices' customers.
Choices has been a strong supporter of not only the farmers and food makers, but also local organizations that work toward building healthy, sustainable communities, whether through food, education, health or environmental initiatives. At the core, we believe that it takes more than good food to build strong communities.
Respecting the environment is another one of our motivations. We build our stores with energy efficiency in mind. Instead of contributing to growing landfills, we compost produce, bakery and meat items that are then turned into healthy, fertile soil. To reduce food kilometres, we make it a priority to source local products whenever possible and if we must obtain a product from abroad, we source fair trade if available.
We also place a lot of value on education. Not only do we keep our staff knowledgeable and passionate, we also do our best to educate the customer. We employ a team of Registered Dietitians and Holistic Nutritionists to answer any questions the customer might have about the often confusing and ever changing landscape of food and nutrition. We even offer free 60-minute store tours with our nutrition consultants to our customers. We want everyone to be able to make informed choices about what they put into their shopping baskets.
Our Mission
Offering our customers a variety of local, organic and specialty products at affordable prices while being committed to sustainability.
Designing our markets for a warm, attractive, family friendly shopping experience
Training our employees to exceed retail customer service expectations.
Service...
We attribute our success to our loyal customer base. Accordingly, our customers are our first priority.
Quality...
We take great care to purchase and produce the finest and freshest grocery, meat, produce, deli, dairy, health care and bakery products available. With our commitment to sustainability, we always source local products first and if it must be ordered from abroad, we source fair trade everywhere we can.
Giving back to the community...
We are a 100 percent British Columbia owned and operated business. As such, we recognize the importance of supporting the local community. This is manifested in our support of local growers and producers, as well as local charitable and community organizations.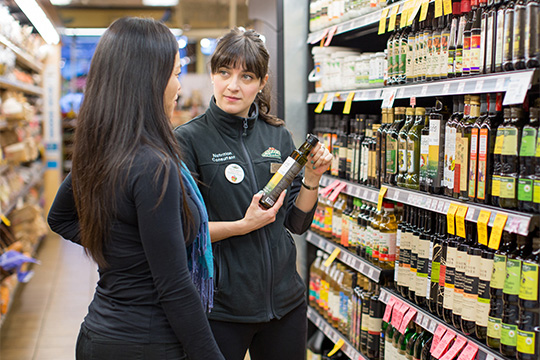 A Personal In-Store Nutrition Tour
Hungry for knowledge? Sign up for a fun and informative Store Nutrition Tour at your local Choices location. Hosted by a member of the Choices Nutrition Team, you will learn how to choose healthy and delicious foods no matter what your unique dietary needs are.