Search results
Pears - Bosc, Fresh, 200 Gram, $1.31 avg/ea
Fancy Grade USA. Called the "Aristocrat of Pears". An Elegant Pear with a Crisp-Dense Texture, Pleasant Sweet Flavor that is Balanced with Hints of Fall Spices. Great for Snacks, Baking and Poaching.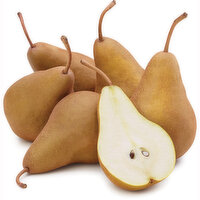 Pears - Bosc, Fresh, 200 Gram
Open product description
Final cost based on weight
Can't find what you're looking for?