DEPARTMENTS /
Floral
Do you need beautiful flowers for a special occasion or simply want to add to the ambiance of your home or office? With a constant flow of fresh bouquets heading to our stores twice a week, you'll always find a variety of lively arrangements right at your fingertips.
Choices' Floral Department is always in bloom. For gardening season, look for pepper, tomato and other edibles; Full Circle topsoil; hundreds of varieties of organic and heirloom seeds sourced specifically for our West Coast climate. At this time of year, we donate 5 percent of the weekend bedding plant sales to local schools in support of music and education. Later on in the year, small farm-grown poinsettias and potted Christmas trees grown in BC are available. Then in February, look for dozens of fair trade roses to deliver to your valentine.
Like our other departments, customer service, freshness, quality and seasonal influences are the key ingredients that we use to make our beautiful designs. Here we offer a wide selection of style and design to compliment any room, décor, event or occasion. Whether you're a green thumb gardener or simply a fan of brightening up your home with fresh flowers, we have what you need.
Visit your local Choices to see all our Floral offerings.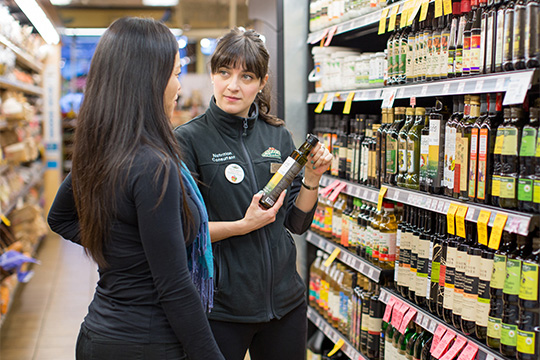 A Personal In-Store Nutrition Tour
Hungry for knowledge? Sign up for a fun and informative Store Nutrition Tour at your local Choices location. Hosted by a member of the Choices Nutrition Team, you will learn how to choose healthy and delicious foods no matter what your unique dietary needs are.