Q&A with Choices Produce Program Lead
FOOD & DRINK, SUSTAINABILITY / WRITTEN BY THE CHOICES NUTRITION TEAM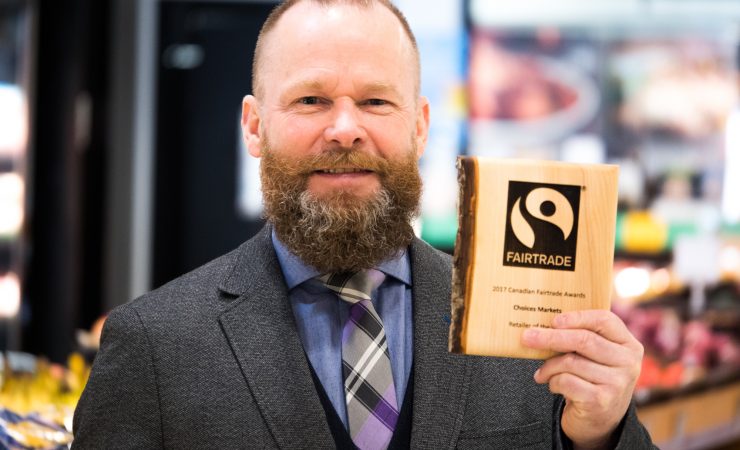 q. Can you tell us about your journey to become the Program Manager for Produce and Floral at Choices?
a. I started as a Produce Clerk in 1994 at our original store, when there was only one, on West 16th avenue. I hadn't worked Produce since my high school days and forgot how much I enjoyed it. Hands-on tasks, pivoting quickly and thinking on your feet, visually impacting displays – it seems I had a knack for those things. I was tapped to be the Produce Manager at our Cambie location when it opened a few years later. With expansion in the future, they needed someone to organize, plan and direct the various locations, and I'm still doing that today.
q. Choices is a proud supporter of small local businesses, how in your role do you help to support local companies?
a. I believe our local growers and producers are the backbone of our food system – without them we'd be 100% dependant on imported food. My goal is to work with as many as possible – whether procuring directly for shipment to our stores – or working as a trilateral partner ensuring we have access to local product through our vendor partners. Our Produce Team have spent countless hours visiting different growers to build connection and better understand their food business challenges. Our policy is to source BC first when available.
q. Tell us what makes the produce at Choices unique?
a. As well as having the widest selection of organic and conventionally grown produce, we have a big space in our heart for Fair Trade producers. In 2013 I was lucky enough to visit seven different Fair Trade organic producers in Peru in a three day period. The growers had all sustained heavy damage from torrential rains during the winter of 2012. I visited as a part of a program delivering direct donations generated by Choices customers and others to assist the Farmers getting back on their feet. Upon return, I created 'Pennies for Peru – A Rainy Day Fund', and with the help of many others, eventually generated over $10,000, mostly from de-circulated pennies, then donated to various growers in Peru.
q. What types of speciality products are offered in our produce departments?
a. We take a lot of pride in sourcing produce you won't find at the average grocery store. Wild crafted products like Cauliflower, Chanterelle, Morel, Maitake, Lobster, and Porcini Mushrooms, Fiddleheads, Sea Asparagus and Spruce tips, Coloured Cauliflowers and Romanesco, many varieties of BC Garlic, Specialty citrus and tropical fruit, and every type of sprout and microgreen you are looking for, will be available for all your dietary wishes.
q. What is your favourite local fruit or vegetable and why?
a. BC Melons!! Not everyone realizes that we grow a wide range of melons in B.C. When they're in season – late summer – I find nothing more refreshing than a sun ripened and freshly picked galia, honeydew, cantaloupe or watermelon. The season is always short, but the product is always amazing.
Bio
Vancouver born and raised, Dave Wilson had various careers in retail, production/manufacturing, distribution, and a 2 week stint on a commercial fish boat, prior to joining Choices as a produce clerk in 1994. His knowledge and responsibilities grew along with Choices expansion, where for the last 15 years, he has been responsible for developing and delivering operational programs, strategic planning, and grower relationships. When he's not working or enjoying various micro-beers, Dave enjoys riding his motorcycle to far-flung locations, quite often ending up in remote small town grocery stores, or eating lunch looking over an orchard.