DEPARTMENTS /
Produce
You already know that Choices Market is a destination for the highest quality, freshest, organic and local produce you can find. But did you know about our commitments to help create a secure and ethical global food system? There's a reason that Choices has BC's largest selection of organic and Fairtrade produce.
Our Produce Department has over 1,500 listed items. Whenever possible, we will always source product from a local BC farm first. We've partnered with over 150 farms and orchards across the province to ensure that you'll always have access to high quality, BC produce. Our produce experts frequently visit our growers to ensure quality growing practices and develop lasting relationships.
Choices is a huge supporter of the Fairtrade movement. We've committed to supporting Fairtrade for the social, economic, environmental, and sustainability benefits that improve the quality of life for people worldwide. Our produce experts have even taken trips to visit Fairtrade farms across the globe to better understand just why this program is so important. This commitment has won us Fairtrade Canada's Retailer of the Year award seven of the last eight years! An achievement we couldn't be more proud of.
As if that weren't enough to make our Produce Department stand out in a crowd, Choices also carries dozens of unique and exotic fruits and vegetables that simply can't be found anywhere else. If you can't find what you're looking for, simply ask the produce team to bring it in and we'll do our best to source it for you.
Origin Organics
Origin Organics was founded in 1997 with the intent to grow the best tasting greenhouse tomatoes and cucumbers of the highest quality. In 2005, they switched from conventional to organic farming because they realized that there was a need for consistently high quality, great tasting organic tomatoes and cucumbers in the North American market. OriginO currently have two greenhouses located in Langley and Delta, BC, which consist of 23 acres of farming land altogether.
Earthbound farms
Love is what made Earthbound Farm possible. Love of our beautiful land and love of wholesome food are what our founders embraced from day one. Our founders chose to farm organically on their 2 ½–acre patch of land in Carmel Valley in 1984 because that meant growing food in harmony with nature.
Eatmore Sprouts
Our mission is to provide fresh, locally grown, organic sprouts, year-round in the Comox Valley and beyond for a happier, healthier planet. Eatmore Sprouts is a family run business, and owners Glenn and Carmen Wakeling have two wonderful kids who have been raised eating sprouts and greens. The Eatmore family includes 45 employees, some who have been with Eatmore for over 10 years.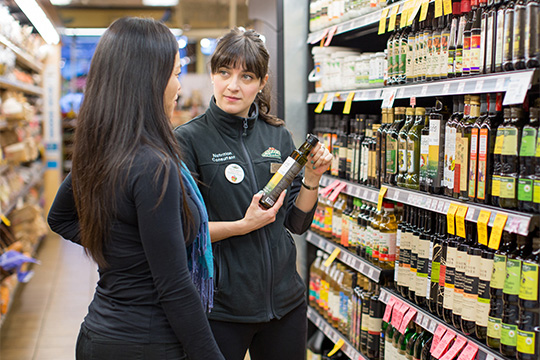 A Personal In-Store Nutrition Tour
Hungry for knowledge? Sign up for a fun and informative Store Nutrition Tour at your local Choices location. Hosted by a member of the Choices Nutrition Team, you will learn how to choose healthy and delicious foods no matter what your unique dietary needs are.