Help & FAQ
The future of shopping at Choices is here! Welcome to Choices' new online store, featuring an all-new platform to enable you to click and collect on all your favourite local, organic and specialty food items. For frequently asked questions, please see below. If you're having trouble finding your answer, please contact us.
---
How it works:
Simply select your store location and browse, shop and order your favourite items online with your credit card from your desktop, tablet or mobile device. At launch, we are offering click and collect services only.
Once you have completed your shopping, enter your payment details and schedule a pickup time. Orders are picked by our staff and you will be sent a confirmation email stating your order is ready for pick up.
---
Managing My Account
Do I need an account to shop on Choices.Market?
You can browse items on our site as a guest but in order to add items to your cart or make a purchase, you require an account. You can create an account online or sign in to an existing one.
---
Once I've created an account, what type of emails will I receive?
You will receive emails related to your online orders, including order confirmation and completion notifications. You will also receive emails for account support requests such as resetting your sign in password.
If you would like to sign up to hear about our latest promotions, nutrition info, special events and more, please click here.
---
What if I forget my password?
Click the Sign in / Register button in the top right of the page, then click Forgot Your Password. Enter your email into the requested field and we will send you a link to set a new password.
---
How do I change my account information?
Click the My Account button in the top right of the page, then click My Account Settings. Edit your account information as needed, then click Save.
---
Shopping Online
When can I pick up my order?
You can order up to 30 days in advance.
If you place your order before 6:00pm, you can request your pickup slot as early as the next day. Order early to ensure you get the timeslot that you prefer; however, this is dependant on availability at your preferred store. Please note availability may change based on location or statutory holiday hours.
---
Is there a fee for pick up?
For a limited time, enjoy free pickup from your local Choices!
---
Do I need to pick up the same day I order?
Not at all. You can schedule your desired pickup time during the checkout process. We won't start picking your order until it's close to your pickup time.
---
How do I know when my order is ready?
You will receive an email stating your order has been picked and is ready to be picked up at the designated time slot. This will confirm your scheduled pickup time. If you ever have questions about your order, please contact the store where you placed your order or email us at [email protected]
---
How do the pickup slots work? When will my order be ready for pick up?
Your order will be available for you to pick up anytime during the one-hour order window that you have selected.
---
What if I can't pick up my order on time?
If you find yourself unable to pick up your order within the timeslot chosen, please contact the store where you placed the order as soon as possible to make alternative arrangements.
---
My local Choices Market doesn't come up under locations; what can I do?
We're rolling out slowly to ensure the best possible shopping experience for our loyal customers. We are working hard to expand this site to our other retail locations in the following months.
---
Can I shop online at my preferred store?
Once we have more locations available online, yes, you will be able to select your preferred local Choices. Please note you will be required to pick up your order from the same location you ordered your items from.
---
Do you deliver?
We are just getting started with our online store and we do not offer delivery at the time.
---
Is the price the same as shopping in-store?
Choices Market advertised specials and promotional prices apply when shopping online; however, buy one get one (BOGO) deals and store event promotions are not available online. The prices shown on the website at the time of ordering are the prices in-store on that day. Please note your order will be charged the prices in-store on the day you have scheduled your pickup time, not the day you place your order.
---
What payment types do you accept online?
We accept Visa, Visa Debit, MasterCard, MasterCard Debit, American Express and Discover cards. We are not able to accept Interac, PayPal or cryptocurrencies online at this time.
---
Can I use / purchase a Choices Gift Card?
Presently we cannot accept Choices Gift Cards as payment through our website nor can you purchase a Choices Gift Card online. You can check the balance of any existing Gift Card here, and of course you can continue to use our Choices Gift Cards in-store.
---
Do you accept paper coupons online?
We do not accept paper coupons online. Please visit your local Choices Market to redeem your paper coupons in person.
---
Do I need a Choices Preferred Shopper Card to shop online?
No, a Choices Preferred Shopper Card is not required.
---
If I am a Preferred Shopper, do I get special pricing online?
We do not offer special pricing for our Preferred Shoppers online. When using our website, all customers are guaranteed to receive our lowest possible price. That means all our advertised specials and promotional prices apply.
---
Will I earn Preferred Shopping Points when shopping online?
Yes, you will receive Preferred Shopping Points on products when shopping online. Your points balance will be updated once the order has been completed.
When placing an order, please include your Preferred Shopper Number in the Notes field on the Checkout page

---
Can I redeem my Preferred Shopper Rewards online?
We do not have the ability to offer online rewards at this time. We are working towards adding our Preferred Shopper Rewards to our online store in the near future, but for now, Preferred Shopper Rewards can only be redeemed in-store.
---
Is there a minimum I need to spend?
There is a $40 minimum to submit an online order.
---
Is there a limit to how much I can buy?
At certain times, we may encounter shortages or limit product availability. To help ensure customers are able to find the products they need and offer the best possible shopping experience, we reserve the right to limit quantities of items purchased online, just as we do in-store.
If you exceed the limit for an item you have requested, you will be sent the maximum allowable quantity and a note will be placed on your order explaining the situation.
---
Can I change or cancel my order?
Yes, you can modify your order up until the order has begun processing. After that time, the order will be closed and you will need to contact the store where you placed your order.
Please sign in to your account and click My Account in the top right of the page. Scroll down and click My Orders,. A list of all your online orders will be displayed and you will be able to change or cancel any active orders. Please ensure you follow the directions carefully as once you have cancelled an order, you will not be able to retrieve it.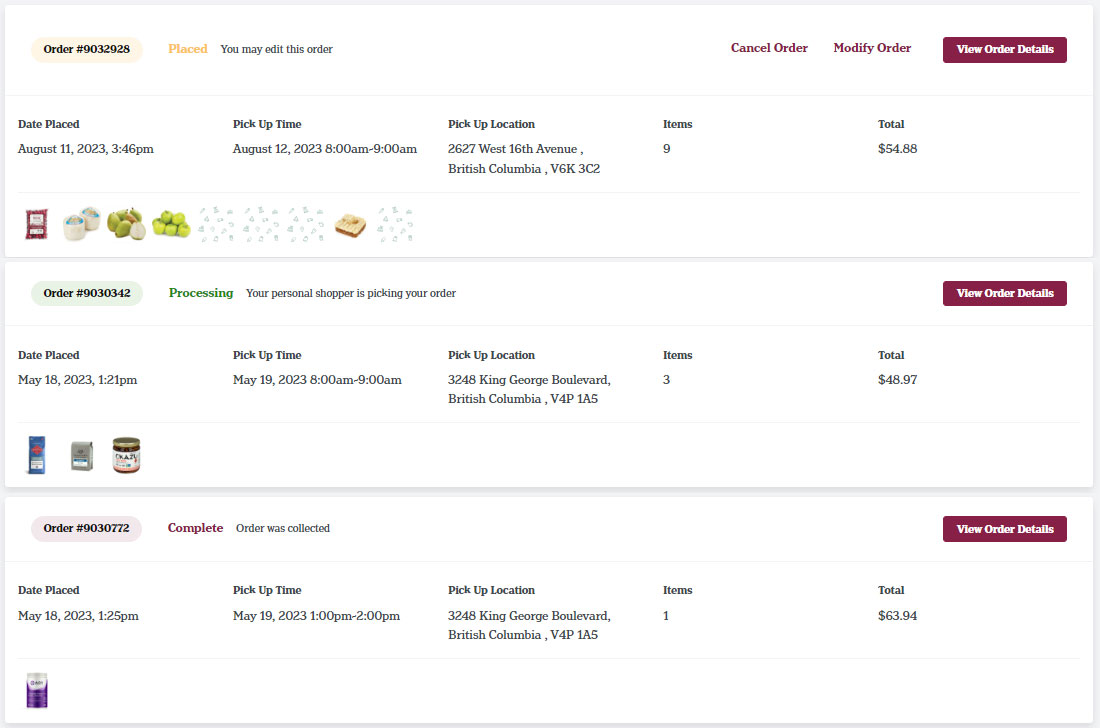 ---
How do I know my items will be fresh?
Our personal shoppers are trained on selecting the best quality and freshest products available. They also ensure that the temperature integrity of your order is maintained at every step in the process until your order is picked up. Personal shoppers also review the best by or best before dates on products and select the longest date available in-store. Choices Market has a 100% money back guarantee to reinforce our commitment to only the highest quality and freshest products
---
I can't find a product online that I've purchased before at Choices
While we try to have as many items available online as we can, it is not always possible to offer every item online at all times. If you are having trouble finding an item on our website we would love to hear from you. Please contact us and let us know what you're looking for.
Unfortunately, we cannot add items currently unavailable on our website to your online order. You will need to visit your local Choices to purchase those items.
---
Do you offer promotions online?
Yes, our Weekly Flyer outlines the deals we have available every week, and our Monthly Newsletter shows additional monthly sales items. Please be aware of the cut off dates for promotions. Our weekly deals go from Thursday to Wednesday. Should you place an order while an item is on promotion and schedule a pickup time outside of that promotion, the item will be charged at the price valid at the time of picking the order. Sale prices are effective only during the stated flyer date range.
Some in-store only promotions cannot be offered online.
---
The cart says Estimated Total. How will I know the actual total?
Due to the nature of produce and bulk items, or items that need to be weighed, we cannot offer an exact price for your order at checkout. You will find out the actual order total amount once the order has been fully picked. An email will be sent informing you that your order is ready and the total amount.
---
When will my credit card be charged?
We will not charge your credit card until we are finished picking your order. Please be aware that the order total may differ slightly from your expected total based on a variety of factors including item availability, weighted items, substituted items, taxes and fees.
---
How do I know my financial information is safe?
Protecting your payment and personal information is our highest priority. The security technologies that we use to safeguard your payment information fully comply with industry standards.
---
What does substitutions mean?
For each item you select, you will have the option to allow substitutions. If a product you've selected online is unavailable, our staff will substitute it with an appropriate item if you choose to allow substitutions. On items you have not allowed substitutions for, we will not provide an alternative. You will not be charged for the selected item and we will remove it from your order.
---
Can I give my personal shopper special instructions?
Yes. On the Review Cart page, you can enter a comment by typing in the note box under each item.
You can leave notes like, "I prefer green bananas", "only low sodium options" or "any flavour yogurt except strawberry".

---
How will I know which items were substituted?
Upon completing your order, we will send you a confirmation email that it is ready for pick up.
This email will show which items were picked and charged to your order. Our staff will review any substituted items with you at the time of pick up. If you are not satisfied with the substitute, we will be happy to refund it at that time.
---
What is the refund policy?
We offer a 100% money back guarantee on any item you are not satisfied with. If you are unhappy with an item in your order, we will provide you a full refund. Please visit any Choices retail location with your receipt in hand and item in question (if possible) and a Customer Service representative will assist you with processing the refund.
You can also contact our Customer Service team at the store where your order was placed or contact us if you have any questions about your order. Please note, refunds must be processed at a Choices retail location.
---
Do you price match?
We match competitor flyer pricing for in-store purchases only. We do not offer competitor price matching online. Please visit your local Choices for this service.
---
Which web browsers can I use?
For the best online shopping experience, we recommend using Safari, Firefox, Microsoft Edge or Google Chrome.
---
Can I receive text messages instead of emails as communication?
We do not use text messages to communicate at this time.
---
Can I place my order over the phone?
We only accept orders using our website.
---