Search results
Tre Stelle - Mascarpone Cheese, 275 Gram, $10.99
Mascarpone is endlessly versatile in the kitchen. It starts the day as a breakfast bread topping with fruit, jam or honey, adds creaminess and body to pastas and risottos, is a great base for dips and sauces, and wraps up a dinner in a multitude of dessert recipes.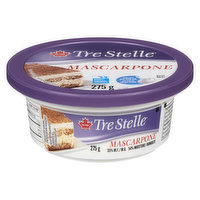 Tre Stelle - Mascarpone Cheese, 275 Gram
Open product description
$10.99
was $11.99
$4.00/100g
Can't find what you're looking for?