Search results
Vegetable Thins - Wheat Thins Vegetable Thins Crackers, 200 Gram, $3.50
They're made with real carrots, onions, celery, cabbage, tomato & red bell peppers for a natural & delicious vegetable taste. With these tasty bites, you won't feel bad about snacking.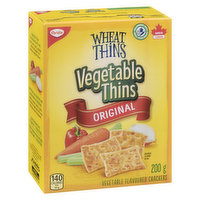 Vegetable Thins - Wheat Thins Vegetable Thins Crackers, 200 Gram
Open product description
$3.50
was $4.99
$1.75/100g
Can't find what you're looking for?