ABOUT US /
Nutrition Team
At Choices, one way we like to show our commitment to a healthy lifestyle is through our talented Nutrition Team. This group of knowledgeable Registered Dietitians and Holistic Nutritionists on hand to help you wade through the sometimes confusing information on healthy eating and nutrition. Want to get in contact with them? Book a free nutrition tour today.
---
Nutrition Operations Manager – Kelsey Moore, BSc, RD
Kelsey is the Nutrition Operations Manager for Choices Markets. Kelsey graduated from UBC, with honours, with a Bachelor's of Science degree majoring in dietetics. Kelsey is a Registered Dietitian and is currently licensed with the College of Dietitians of British Columbia. She completed her dietetic internship with Interior Health which focused on areas such as diabetes management, renal, medicine and sport nutrition. She has worked as a Sport Dietitian helping youth, recreational and pro athletes meet their nutrition needs for their sport and overall health. Kelsey has volunteered within the Vancouver area and Kamloops with groups such as UBC athletics, diabetes clinics and public health agencies. Kelsey's areas of interest in nutrition include Low FODMAP diets, disordered eating, sports nutrition and public health. Both her work and volunteer experience has driven her passion for providing evidenced based nutrition to the public. With the rise of nutrition misinformation online, Kelsey believes in providing evidence based nutrition information grounded in science to empower individuals to make informed choices about their health. Kelsey prioritizes normalizing food and steering clear of fad diets to help individuals create a positive image around food. In her spare time Kelsey enjoys learning new recipes and trying new foods from around the world.
Catch Kelsey writing articles for the Choices Newsletter and hosting free online seminars through Choices on various trending nutrition topics!
---
D'Arcy Furness BA, RHN
Is a graduate of the Canadian School of Natural Nutrition and specializes in helping people navigate low carb and ketogenic dietary patterns, as well as fasting regimes. She loves to cook and inspire others to make the most of nature's bounty to nourish themselves. She's passionate about educating and inspiring people to shift their eating paradigm and to simplify their relationship with food. D'Arcy avidly follows research in the "longevity meets health span" field and is keen to share her knowledge with others. When not at work, you'll find her hiking, biking, writing poetry, meditating, traveling and sharing this beautiful world with family and friends.
Connect with D'Arcy at our South Surrey store or contact her by email at

[email protected]
---
Dionne Legge, CNP
Holds the designation of Certified Nutritional Practitioner, having obtained her diploma in applied holistic nutrition, from the Institute of Holistic Nutrition. She is also certified in Herbal Pharmacology & Plant Based Medicine Making as well as Therapeutic Nutrition & Supplementation in Practice. Coming from the clean energy sector, Dionne developed a strong passion for sustainability and now advocates for having ethical eco options when it comes to food. She loves teaching people how to harness the power of whole foods for optimal health and vitality. When she is not at work you can find her at the community garden or running the trails.
Connect with Dionne at our Abbotsford store or by email at

[email protected]
---
Wendy Wells BSc, MSc, RHN
Wendy holds a degree in Nutrition and Dietetics and a Masters in Public Health Nutrition. After working as a clinical dietitian for several years in the UK, Wendy moved to beautiful BC with her family to study Holistic Nutrition in Vancouver. She believes that good nutrition is the foundation of our health, and finds that small changes can have great positive health consequences. Wendy has a special interest in the role of food on our mental and emotional health, as well as food allergies and sensitivities.
---
Lizzie Yan
Lizzie is in her final year of the UBC Dietetics program where she will be completing a 10-month practice education practicum with Vancouver Coastal Health and Providence Health Care in September 2022. Her passions lie in areas of women's health, pediatrics, heart and gut health. Lizzie believes that all foods can be included in the diet and that making small, achievable goals can lead to lifelong, sustainable changes. She is an advocate for providing evidence-based nutrition information and debunking nutrition misinformation circulating online and on social media. She hopes to equip individuals with the knowledge they need to make informed decisions for themselves and their health. In her spare time, Lizzie loves being in the outdoors and trying different foods when travelling!
Connect with Lizzie at our Kerrisdale store or by email at

[email protected]
---
Anna Pepperdine, BSc.
Anna holds a Bachelor's degree with Honors in Nutrition from King's College London. With a special interest in Gut Health, Sports Nutrition, and plant-based diets, she is passionate about improving the accessibility of evidence-based nutrition in her community. She is committed to offering a balanced approach to nutrition rooted in empowering people to lead a healthy life that fits their personal lifestyle. Anna loves to cook and develop recipes, while keeping active with Pilates.
Connect with Anna at our Kelowna store or by email at

[email protected]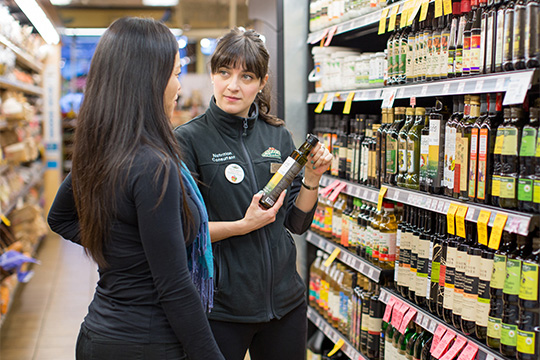 A Personal In-Store Nutrition Tour
Hungry for knowledge? Sign up for a fun and informative Store Nutrition Tour at your local Choices Markets location. Hosted by a member of the Choices Nutrition Team, you will learn how to choose healthy and delicious foods no matter what your unique dietary needs are.